Comparisons of the effectiveness of WAKAMONO Medical Mask and current facemasks in blocking SARS–CoV-2
WAKAMONO Medical Mask – the antiviral surgical mask
The antiviral surgical mask is a single-use, disposable surgical mask for occupational use to cover the nose and mouth of the wearer to protect from the transfer of microorganisms, body fluids and particulates and has an added antimicrobial and/or antiviral agent which kills specific pathogens under specified contact conditions.
WAKAMONO Medical Mask – the standard surgical mask
The baseline quality standards established for surgical masks which are EN 14683 "Medical Face Masks – Requirements and Test Methods" and ASTM F2100 "Standard Specification for Performance of Materials Used in Medical Face Masks". These standards define the tests that shall be performed to assess the safety and performance requirements of surgical masks. WAKAMONO Surgical Mask has met and reached the highest levels in the standard sets (EN14683 – Type IIR and ASTM F2100 – Level 3).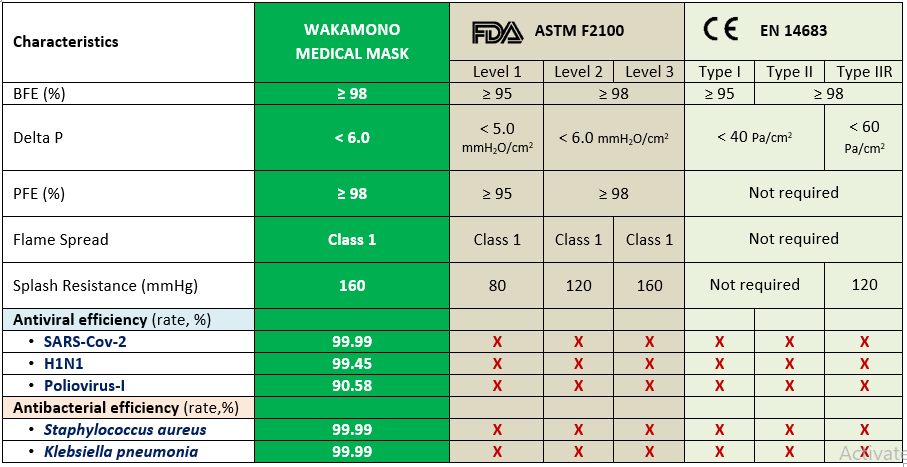 WAKAMONO Medical Mask – the safety-certified surgical mask
There are no metallic nanoparticles in WAKAMONO Medical Mask composition.
WAKAMONO are made up from bioactive material which is biosafety certified from an independent laboratory in the U.S.A. – Pacific BioLabs
Why don't WAKAMONO use old technologies using nano-silver, nano-copper, nano-titanium particles?
One study (2014) from the University of Southern Denmark, published in the journal ACS Nano, found that if nanosilver enters a human cell, it can cause the development of cell-damaging free radicals. Over-production of free radicals, in turn, can lead to cancer, Alzheimer's, and Parkinson's, note the researchers in a press statement.
"We don't know how much is needed, so we cannot conclude that nanosilver can make you sick. But we can say that we must be very cautious and worried when we see an overproduction of free radicals in human cells," note study researchers Frank Kjeldsen and Thiago Verano-Braga.